Through a contribution from the Canadian International Development Agency (CIDA), IEMI was able to offer ongoing in-depth training sessions for its members. We have trained more than 60 former legislators from Canada, Europe, and the United States through bilingual sessions held in Ottawa.
The ongoing training sessions provide focused instruction on topics such as the definition of an observation mission, the role of an observer, key issues affecting former legislators in the role of an observer, and what observers need to know to stay safe and be adaptable while on mission. The training also includes a session that highlights sensitivity towards gender equality as well as an appreciation for the diverse cultural heritage found across the globe.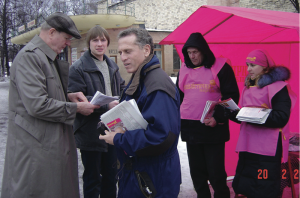 I have been pleased to work in close partnership with the Canadian Association of Former Parliamentarians and to have contributed to the creation of the International Election Monitors Institute. I have no doubt that both organizations will continue to play an important role on the world scene.
In tandem with the sessions, an 80-page training manual was drafted that is specifically geared toward the unique role of former legislators participating in election monitoring and democratic strengthening work. The manual will be updated on an ongoing basis.  As a supplement to the manual, there is also a field guide with checklists for each former legislator to use while in-country. The guide is directed at former legislators for use during election monitoring missions, but can be adapted to incorporate elements that would arise during pre-election and post-election activities.
Former legislators add a practical perspective while in-country during the campaign period. As experienced campaigners themselves, they are aware of what to look for, and can add additional gravitas to pre-election monitoring work.
Case study: Ukraine 2006
As a follow up to an election monitoring project initiated by USAFMC for the 2004 Ukrainian Presidential Election, IEMI sent two multiparty delegations of former legislators to Ukraine in 2006 as pre-election observers during the local and parliamentary elections campaign period.
The delegations were deployed in February and March 2006, in preparation for the elections held on 26 March 2006. Focusing primarily on the Kharkiv oblast, the delegations met with local government officials, mass media representatives, political party representatives, candidates, NGOs, and individuals interested or involved in the election process. Both delegations delivered a unified message to officials, politicians, the media and others about the importance of free and fair campaigns and elections.
To this day, Ukraine is still working toward becoming a fully democratic society, but has made great strides thanks to the attention of both international and local observers before, during, and after each election cycle.